Students! Help us decide which scientists and engineers should take part in the next event, and you could win a £20 voucher. All you need to do is take 2 minutes now to judge these 12 sentences.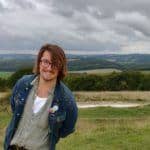 Wowzers! Thank you to every single student who took part in I'm a Scientist, you are all superstars who have the key trait of every great scientist – curiosity! The universe is a place we can explore by questioning it and there were A LOT of questions. From unicorns to supernovas I enjoyed every topic of conversation. We discussed the strange wibbly-wobbly world of quantum mechanics, climate change, extra-terrestrial life, and raccoons. Thank you to all the hard-working teachers, the IAS team, and the other scientists who answered questions alongside me. You're all fantastic and this wouldn't have been possible without you.
One of the reasons that I love physics is because of its prevalence, it underpins everything. From the smallest particle to the largest black hole. It's the language of the universe, and by understanding it we can understand our place in it all. But we can also have some fun along the way, like discovering the life-threatening dangers of cleaning your cat and the wonders of chocolate. IAS is a fantastic example of how science isn't always a serious business, it's often as hilarious as it is wonderful and we should appreciate that more!
Taking part in I'm a Scientist opened my eyes to how creative science communication can be, and how technology can allow us to speak with more people than ever before! The live chats kept me on my toes, I had to answer questions as quickly as I could without losing any important information. This meant I had to make my answers as concise and clear as possible… which can be very difficult when you're answering a question about how robins can detect the magnetic field of the Earth using a biological compass.
I'll be using the prize money to buy audio equipment which I can then use to record professors, researchers, and every kind of other scientist answering questions asked by the general public – no matter how silly or difficult. It goes without saying that everything I learnt in this competition has really prepared me for it! And finally, if you're a scientist, student, or teacher thinking of taking part in I'm a Scientist then don't hesitate. You'll chat with some fantastic people, you'll have a lot of fun, and you might even learn a thing or two (or a thousand) on the way.
I still can't believe I won, there was a wide range of brilliant and enthusiastic scientists. All of them with their own specialities and differences but every single one seemed like a fantastic person with a genuine love of science. We should be incredibly proud to have such a thriving and passionate scientific community who are keen to share their knowledge with the public. The world can often seem like a scary and threatening place, but by teaching one another we can erase ignorance and fight against the hatred that festers there. Keep asking questions, be kind to one another, and thank you!
Scientists! If you'd like the chance to win funding for your own public engagement work, apply for the next I'm a Scientist, Get me out of here: imascientist.org.uk/scientist-apply