Profile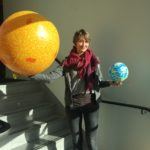 Maria Walach
Curriculum Vitae
Education:

Northampton School for Girls & University of Leicester.

Qualifications:

A-Levels (Physics, Maths, Art, French, and German), MPhys degree in Physics & a PhD (and an orange belt in Karate!)

Work History:

University of Leicester and Lancaster University

Current Job:

Researcher in Space Plasma Physics

Employer:

My connections to STFC science and technology:

My PhD project was funded by STFC
Favourite thing to do in my job: Talk to other scientists about things we still want to find out!

About Me

When I was younger, I was really bad at maths...

Read more

…but now I am a physicist (for which I have to know a lot of maths)!

I live in Lancaster and I have a lot of hobbies.

I spend a lot of time doing sports:
🤺🥊🥋⛸🏄‍♀️🏊‍♀️🏋️‍♀️ (I love fencing and surfing and last year I started learning Karate!)

When I don't d0 sports, I eat or cook! I love making fresh food and trying new flavours.

I love the summer and the sunshine! ☀️🍉⛱😎🌅🌄🌻🏄‍♀️

My Work

Never gets boring!

Read more

My work is about working out how the Sun and Earth are connected.

☀️➔🌐

The Earth has a magnetic field, which we can't see by eye.

This field is REALLY big and goes really far into space.

And it's connected to the Sun's magnetic field.

I look at how the two are connected and how it changes over time.

Because we can't see it by eye, we have to use spacecraft that can measure it for us!

And we can see the aurora (or northern lights), which are there because of our magnetic field.

The spacecraft then send us the data back to Earth, so we can look at it.

🌐🚀 ➔  ➔ ➔🛰 ➔ 📧 ➔🌐

I also look at how the Sun-Earth connection changes things in the most upper parts of the atmosphere. Like: "How can changes in the Sun's magnetic field affect our weather?" and "Can we predict what will happen better?"

To look at this, I use data from radars.

I spend most of my day in front of a computer, analysing my data.

For this I have to write a lot of programming code!

The code then makes plots and diagrams of the data, so it is easier to understand by humans.

My Typical Day

cycle to work, science, coffee & cake, sport (fencing!), FOOD, sleep!

Read more

It's all about finding out new things and asking questions!

And then I have to go and find answers.

I do this by looking at data.

It's fun because I get to ask questions that I think are interesting. And I work with people who work on similar problems.

And when we get stuck we talk to each other about how we can solve them.

Because the spacecraft and radars collect all the data for us, most of our problems are about how do we find out what the data means? And how is the data from different space missions connected?

Some of my colleagues work on data from different planets or moons in our solar system, so I know a lot about those too.

Most of the problems we come up against, involve computers. So, I guess over time, I have become a bit of a computer-whizz!

What I'd do with the prize money

Build an aurora-simulator that you can walk through!

Read more

I would build a three-dimensional set-up of what the aurora looks like that you can walk through.

It will be a unique installation with lights and mist, where people can see the different layers and colours produced by light emitted by plasma hitting the atmosphere.

It will be the ultimate show-and-tell without actual pictures/videos and will be fun to look at for children and adults alike!

My Interview

How would you describe yourself in 3 words?

physicist, fencer, scientist

What's the best thing you've done in your career?

Discover things that no one else has!

What or who inspired you to follow your career?

My own curiosity

What was your favourite subject at school?

Art! (I hated PE and maths)

What did you want to be after you left school?

An airline pilot

Were you ever in trouble at school?

Yes

If you weren't doing this job, what would you choose instead?

A fashion designer

Who is your favourite singer or band?

Robyn

What's your favourite food?

Chocolate cake

What is the most fun thing you've done?

Learning to surf!

If you had 3 wishes for yourself what would they be? - be honest!

Be able to bring happiness to everyone around me, have the ability to make the sun come out whenever I want, and have another free 1 million wishes!

Tell us a joke.

What did the fish say when it swam into a wall? - Oh, damm!
---
---
---