Profile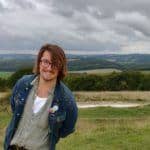 Nick Werren
Curriculum Vitae
Education

Qualifications

First Class in BSc Physics and a Distinction MSc Physics

Work History

For a surf company packaging wetsuits and delivering surfboards

Current Job

Employer

My connections to STFC science and technology

I am funded by STFC to research into quantum biology!
Favourite thing to do in my job:

Read new science articles!

About Me:

I'm a quantum physicist with a lot of hobbies!

Read more

Hello! I live in Guildford, and I love to paint! I've attached a painting below of an unnecessarily moody sea. When my hand's aren't covered in acrylic paint I also take part in politics and activism. Just like you (I hope!), I'm worried about climate change so I try to do as much as I can to make sure our future and our planet is safe! I also do stand-up comedy which is often about SCIENCE! Writing jokes is a great excuse to research into other areas of science and find out more ridiculous facts about the universe.

My Work

I'm finding out if plants are QUANTUM, and if animals have SUPERPOWERS!!!

Read more

I look at mathematical models of real life things, and then I try to build upon them. The particular model I am looking at is Brownian motion – that's the random motion of a particle (like how smoke particles move in the air).

Quantum mechanics is a mathematical model to try and understand the super small, atoms and beyond. Quantum Brownian motion is the random motion of these very small things. If I can prove that weird quantum behaviour is happening at that level, and that living things are using this weird quantum-ness then I get a big thumbs up from my supervisor (my boss) and that's a scientific result!

The reality of doing this is writing code. In the same way a sheepdog helps a shepard, my computer is my faithful metal doggo who chases after mathematical equations instead of tennis balls. I give the computer some maths that I have worked out, and then the computer crunches the numbers (and the symbols) and gives me pictures, solutions, and information about the physics!

My Typical Day:

Get in at 9am and check my simulations! If my results are good I'll do some data analysis, if not I'll try and figure out what went wrong. I might also do some mathematics too!

Read more

I get in at 10am, turn on my PC and check the results of the simulations and models that my code produced overnight. If the results are good then I'll write up my analysis and think about the implications are for my research. If the results are BAD (which they often are) then I figure out what has gone wrong. Often you realise that you've made a silly mistake and you correct it. Every theoretical physicist I know is worried, in some way, that they missed something stupid months ago and that all their work could be nonsense because of it.

I will then correct my errors, produce plots, and put them into my thesis (a thesis is a big document that PhD's have to hand in at the end of the degree). I often do other things in my work – I am on the University's Sustainability Steering group,  I am president of the Uniersity's Postgraduate Society, and I help train other academics to do stand-up comedy for a science comedy event called Bright Club!

What I'd do with the prize money:

Ask academics questions asked by school kids and record the answers for everyone to listen to!

Read more

Lots of school kids have questions that their teachers can't answer but researchers can! I want to interview school kids/find out what their BIG QUESTIONS are and then record the researchers answering them. All I'd need to do this is audio equipment!
My Interview

How would you describe yourself in 3 words?

Energetic, frantic, and creative

What or who inspired you to follow your career?

My brother and his love of stars

What was your favourite subject at school?

Physics

What did you want to be after you left school?

A lawyer (I did work experience and found out it was BORING)

Were you ever in trouble at school?

No, I was too sneaky

If you weren't doing this job, what would you choose instead?

A ranger at a national park

Who is your favourite singer or band?

Feist

What's your favourite food?

Roast beef, but tragically I'm now vegetarian

What is the most fun thing you've done?

My first stand-up comedy show

If you had 3 wishes for yourself what would they be? - be honest!

More time, more time, and more time

Tell us a joke.

My dog Minton ate a shuttlecock. Bad, Minton!!!
My profile link:
https://ias.im/u.210828
---
---
---